Torch™ is social intelligence
for the mission-driven world
Mission-driven organizations and campaigns use Torch to
strengthen their fundraising, communications, and advocacy.
Request a Demo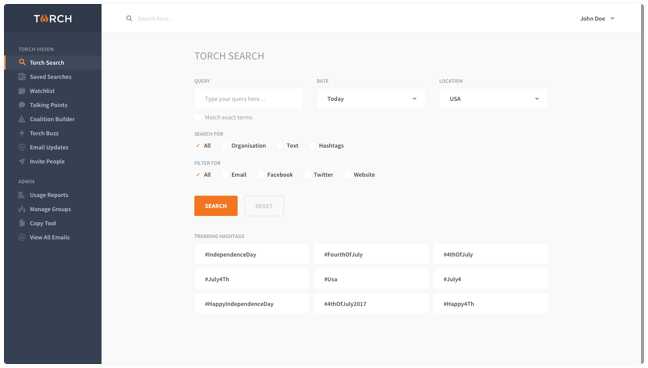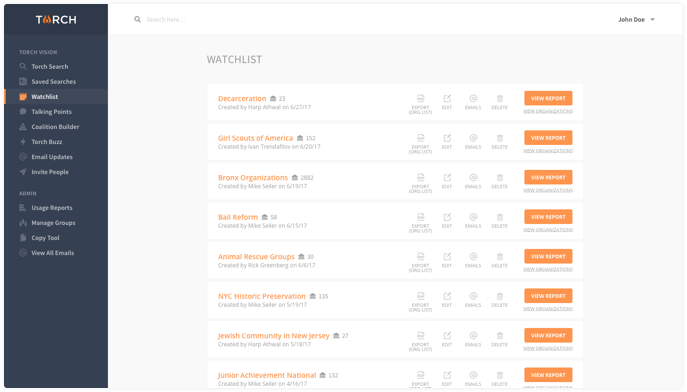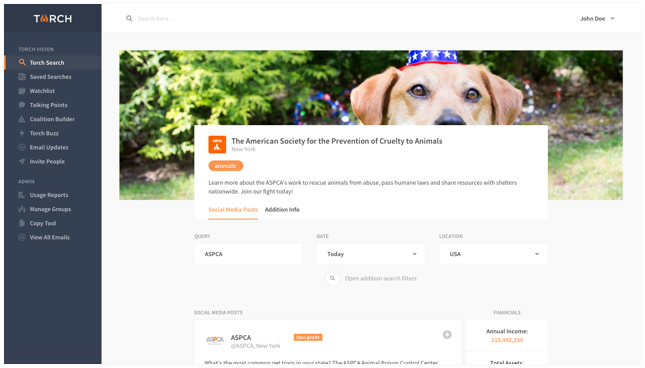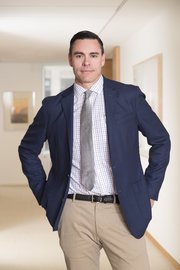 "Torch is a game-changing tool for communications teams at foundations and other social sector organizations to track
and do strategic social listening around issues, locations, organizations and coalitions."
Robert Nolan, Carnegie Corporation
Executive Director of Communications and Content Strategy, Carnegie Corporation
WHAT IS TORCH?
Social Media for Social Good
A mission-driven platform to search content exclusively from 1.6+ million mission-driven
organizations and 50,000+ US elected officials.
Search millions of social media posts from Twitter, Instagram, Facebook and Youtube
and public emails in a real-time dashboard with customized feeds and reporting tools.
Who is Torch For?
Torch was built for you and your organization
Features
What can I do with
the Torch Platform?
Create Watchlists
Easily create watchlists to monitor and analyze digital
media outreach for a collection of organizations e.g.
Grantees, Donors, Coalition Groups, Opposition Groups.
Search within a Watchlist or subscribe to an email feed of
organizations communications with optional filter rules.
Discover & Build Coalitions
Search Torch, pin exemplary posts for review and export
and build a coalition in a Watchlist. Monitor thought
leaders via Torch and easily message your coalition via
E-mail and Twitter tools.
Advanced Control of Searches
Search digital content from the mission-driven world using
keywords, post type, date and geographic filters. Find local
or national organizations that care about the same issues
as you. Monitor how your peers are managing their digital
outreach.
I WANT IT
Free Demo,
No Credit Card Required